Horizontal stretch wrapper for profile&panel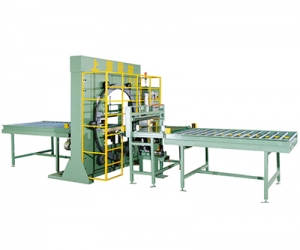 Horizontal stretch wrapper, horizontal stretch wrapping machine
Application:
The horizontal stretch wrapping machine is specialized for exterior wrapping horizontal objects such as pipe bundle, profile, section, boards & etc. The wrapped package is no limited for length. It is easy for transportation and storage.
Features:
1 PLC & HMI are adopted.
2. indicator will automatically alarm when problems occur. The problems can be shown.
3-wheel mechanism of friction that work more secure, stable and energetic.
4 rollers, belt and rack can be chosen for the transport lines.
5 photocell sensor is adopted to establish the position of packing.
6. adopted special tension device.
7. ring height can be adjusted for different objects of ID and OD.
8 manipulator could be chosen for food and film cutting, safe and efficient.
9 press rollers and roller side protection could adopt to pipeline simple or lightweight object.
Short 10.Objetos can also be wrapped as the machine has wide application.
Datos Técnicos:
Type
GG500
GG800
GG1000
GG1600
OD
100-500mm
100-800mm
100-1000mm
100-1600mm
Length
No limited
No limited
No limited
No limited
Conveyor
9000mm*2
9000mm*2
9000mm*2
9000mm*2
Conveyor speed
app. 8m/min
app.8m/min
app. 8m/min
app. 8m/min
Ring speed
app. 60r/min
app. 50r/min
app. 45r/min
app. 30r/min
Min. Length
800mm
1000mm
1000mm
1200mm
Max. Loading
2000kg
3000kg
4000kg
5000kg
Overlapping
app. 30%-70%
app. 30%-70%
app. 30%-70%
app. 30%-70%
Power Supply
app. 3kw
app. 4kw
app. 5kw
app. 8kw
Power Supply
380V/3P/50Hz
380V/3P/ 50Hz
380V/ 3 P /50Hz
380V/3P/50Hz
Material
Cinta de papel compuesta/cinta tejida /cinta anticorrosiva/cinta impermeable/ película estirable/lino
Cinta de papel compuesta/cinta tejida /cinta anticorrosiva/cinta impermeable/ película estirable/lino
Cinta de papel compuesta/cinta tejida /cinta anticorrosiva/cinta impermeable/ película estirable/lino
Cinta de papel compuesta/cinta tejida /cinta anticorrosiva/cinta impermeable/ película estirable/lino
Material size
Width:≤250mm
Max OD:400mmmmmm<55mm>
Width:≤250mm
Max OD:400mm m m <55mm>
Width:≤250mm
Max OD:400mm m m <55mm>
Width:≤250mm
Max OD:400mm m m
ID:55mm
55mm>55mm>55mm>