Horizontal stretch wrapper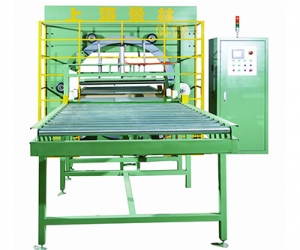 Horizontal stretch wrapper
Application:
The horizontal wrapping equipment is professional for exterior covering side to side things like stainless steel water lines, copper plumbing, blemish a lot less stainless steel tube, aluminum hose, plastic-type material bars and tubes, boards & and so on. The twisted package is well-guarded And appears tidier, easier for travel and storage space.
Features:
1. PLC And HMI are implemented.
2. Signal alarm systems automatically when difficulty comes about. Difficulty could be proven.
3. Rubbing wheel mechanism tends to make operating more harmless stable & dynamic.
4. belt, Rollers and shelf can be picked for conveyor facial lines.
5. Photocell indicator is adopted for placing packaging placement.
6. Particular anxiety system adopted.
7. Size in the diamond ring could possibly be altered for various item ID and OD.
8. Manipulator might be preferred video feeding and cutting, safe and efficient.
9. Hit roller and side protecting roller could be implemented for single tubing or light-weight subject.
10.Short objects can also be twisted since the machine features a vast application.
We have been producing long shape protection equipment for the economic packaging of degassing products such as profile, board... Their outstanding function for wrapping, thanks to the well proven ring stretch wrapping technology, is confirmed by the fact we are used thousand of equipment times worldwide. By using an stretch wrapping for products protection, the long shape products can be packaged by packing material through the ring rotary process. An easy and safe application could be accomplished using the largest number of machine models.