Máquina Embaladora de Rodamiento GW200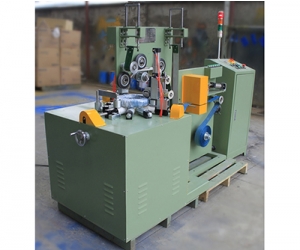 Máquina Embaladora de Rodamiento, Máquina Embaladora de Bobina deRodamiento
Descripción:
Description: The bearing wrapping machine is for bearing industry packing. It is able to do two layer packing with well sealed pack for moisture protecting and anti-dust. The bearing package is able to meet your different goal in transportation and selling.
Product Notes:
1. Conveyor for loading and unloading.
2. Manual and automatic working mode can be choosing.
3. The converter is adopted to adjust the overlap of the packing tape according to requirement.
4. Simple operation by imputing OD. ID. width & corrected parameter of coiled metal. Other parameters will be set automatically (PLC program).
5. Guardrails, soft starts and stop for safety operation.
6. Convenient for hoisting, safe and reliable.
7. Packaging tension is adjustable.
8. Cutting and clamping the packing tape automatically.
9. Automatic material feeding system(Optional).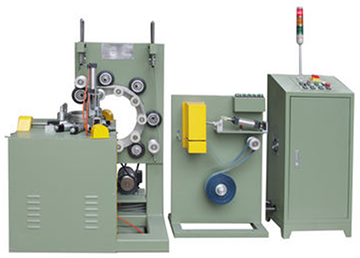 Basic data of the steel coils:
Object material: steel coil
Coil width(W):150~250mm
Coil outer diameter(OD):550mm
Coil inner diameter(ID):250mm
OD-ID:<300mm
Coil weight:50-200kg
Length of conveyor: 600mm
Packing material:
Rolled compound paper
W﹦90mm,OD=500mm ID=50mm
LLDPE/PE/PVC
W=90mm OD=100-150mm ID=50mm
Ring speed: 10- 90r/min
Overlap rate:10%~90%
Power :About 3.0Kw
Power supply:440V,Three-phase five line
Air supply:6~8kgf/cm2