Bearing packing machine and packaging solution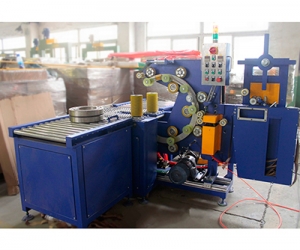 Description:
Description: The bearing wrapping machine is for bearing industry packing. It is able to do two layer packing with well sealed pack for moisture protecting and anti-dust. The bearing package is able to meet your different goal in transportation and selling.
Product Notes:
l Conveyor for loading and unloading.
l Manual and automatic working mode can be choosing.
l The converter is adopted to adjust the overlap of the packing tape according to requirement.
l Simple operation by imputing OD. ID. width & corrected parameter of coiled metal.
Other parameters will be set automatically (PLC program).
l Guardrails, soft starts and stop for safety operation.
l Convenient for hoisting, safe and reliable.
l Packaging tension is adjustable.
l Cutting and clamping the packing tape automatically.
l Automatic material feeding system(Optional).
Basic data of the steel coils:
² Object material: steel coil
² Coil width(W):150~250mm
² Coil outer diameter(OD):550-800mm
² Coil inner diameter(ID):250-400mm
² OD-ID:<300mm ² Coil weight:50-200kg
² Length of conveyor: 600mm
² Packing material: Rolled compound
paper W﹦90mm,
OD=500mm ID=50mm LLDPE/PE/PVC W=90mm OD=100-150mm ID=50mm
² Ring speed: 10- 90r/min
² Overlap rate:10%~90%
² Power :About 3.0Kw
² Power supply:440V,Three-phase five line
² Air supply:6~8kgf/cm2