Embaladora de Bobina GW2500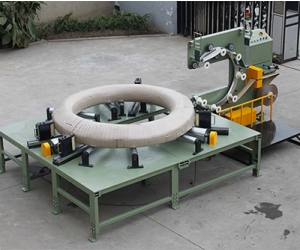 Máquina Embaladora de Bobina de Alambre , Máquina Embaladora de Alambre
Funciones:
The machine is specialized for steel coil, especially for steel wire with big OD, such as pre-stress wire coil packing, strand wire coil packing. The wrapped package is well-protected & sealed & looks tidier.
Características:
1. Excellent collections. Well-known brands are adopted for main components
2. The track with movable wrapping position for different coils.
3. PLC & HMI are adopted.
4. Indicator alarms automatically when trouble occurs. Trouble can be shown automatically.
5. Simple operation by imputing OD,ID&Width of coiled metal. Other parameters will be set automatically
6. The converter as adopted to adjust the overlap rate of wrapping tape according to the requirements
7. Wrapping tape tension can be adjusted. 8. Automatic material cutting. 9. Special brake to avoid material folding on the ring.
Technical parameter GW2500:
Object weight: 500-2500kg
Package width: 150-500mm
Package OD: 1600-2300mm
Package ID: 1350-2000mm
Roller Speed:2-4m/min
Rotating speed: 40-60r/min
Overlap scope:30%-70%
Power output: app. 5.0kw
Power voltage:440v/50Hz
Packing material: Knit belt or Goffered paper
ID:55mm OD:550mm Width:120mm