Steel wire coil wrapper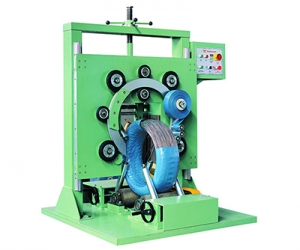 Wrapping machine for steel wire coil , Steel wire coil stretch wrapper
APPLICATION:
GS200 wire coil wrapping machine is designed mainly for coiled objects especially for steel wires, hose coil, pipe coils, steel wire coils, etc. The wrapped package is well-protected & sealed & looks tidier.
FEATURES:
FEATURES:
1. Vertical or horizontal structure chose for different objects or according to special requirement.
2. Automatic or semi-auto control mode for option.
3. Two modes of tape wrapping structure: tape stored on the ring; tape wrapping directly.
4. Anti-wear polyurethane adopted for the friction wheel, ring with integral mould structure.
5. Ring height could be adjusted for different object ID&OD.
6. Synchronous wrapping (two kinds of wrapping material working together) is available.
7. Wrapping material available: woven belt、stretch film、non-woven fabrics、plastic tape、compound paper tape、sackcloth tape etc.
8. Special tension control system adopted; the overlap rate and material tension could be adjusted according to needs.
9. The carrier roller and protective roller can be rubber wrapped according to needs.

ITEM GS200
Product OD 500-800 mm
Product ID ≥200mm
Product width ≤200mm
Product weight ≤100KG
Roller speed 3-5 m/min
Cutting mode by manual
Ring speed Approx 80r/min
Wrapping material Compound paper tape/compound woven belt /stretch film/
non-woven fabrics etc.
Material width 60-100mm
Material OD 100mm
Material ID 55mm
Power output 1.0KW
Power voltage AC/380V/3phase 5wires
Air supply(6-8kgf/ c㎡) without
Pushing-out device optional
Labeling device optional
Synchronous wrapping device optional
Control mode Auto/semi-auto