Máquina de Embalaje Para Puertas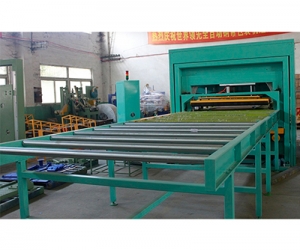 Door stretch wrapping machine, Door/profile wrapping machinery
Functions:
This is a automatic door wrapping machine specialized for horizontal shapes such as sheets, doors, Floor board, the wrapped package is well-protected & sealed & looks more tidy. The machine can be connecting to the packing line for automatically wrapping.
Installation:
The machine shall be mounted on flat & hard ground, where the ground load should be more than 1 ton/m2.
Door Wrapping Station:
l Double-ring & double-rub wheel devices make working more safe stable & energetic.
l Friction between driving wheels and ring is adjustable.
l Speed of the ring is adjustable by inverter.
l Soft start and start.
l Wrapping position reset.
l Packing material tension could be adjusted.
l Widely packing material adopted by material frame.
l Protect guardrail for safety operation.
l All moving parts in closed structure for safety operation.
l Overlapping is adjustable from 10%-90%
Sistema de Transportador:
Cintas transportadoras de PVC para proteger la superficie del producto.
Automático sistema de transportador de entrada y de salida
Función de ajuste del transportador.
Transportadores impulsadospor motor con caja de cambios.
Velocidad de las cintas transportadoras es ajustable por inversores.
Sensor detecta los objetos para la acción de operación.
Altura del transportador ajustable.
Sistema de protección de embalaje automático:
Rodillos de esponja para protección de superficies.
Sistema de descompresión para la prensa derecha.
Dispositivos de protección automáticos son capaces de evitar la sacudida de los productos en el embalaje.
Dispositvo de prensayrodillos de apoyo para fijar la posición de embalaje.
El tiempo de actuación es ajustable para el propósito de embalaje diferente.
Dos conjuntos de dispositvos de prensa.
Dos juegos del dispositivo de protección a derecha e izquierda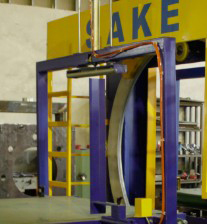 Sistema de control de PLC&HMI :
PLC y el programahace que la máquina de ser capaz de hacer envoltura automática según su objetivo de embalaje.
Sensor de la fotocélula se adopta para establecer la posición del embalaje.
Indicador alarmará automáticamente cuando se producen problemas. El problema puede ser mostrado de forma automática.
Panel de control separado hace la operación y mantenimiento fácil.
Operación del interfaz.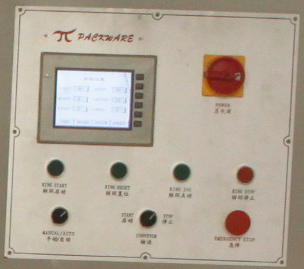 Mano mecánica automática:
Automáticos alimentación de material y dispositivo de corte .
Material de sujeción automática para el siguiente embalaje.
Sensor y el programa de PLC.
Este dispositivo hace que el funcionamiento de la máquina de forma automática y sin tripulación.