Máquina de Empaque Termorretráctil de Puerta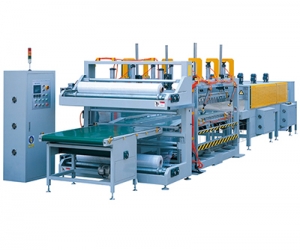 Automatic door packing machine, Automatic door shrinking machine
Application
JL2300-D Door packing machine was special designed for the sealing shrinking, such as door, window, wooden, profile and panel. It is wrapped with PE stretch film that the goods looks tidier and more stable. The main purpose of the machine is keeping the goods in a good condition against water, dirt and stained, etc.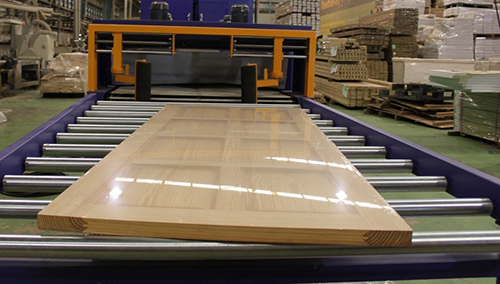 Feature:

1. This door packing machine can be combined with an automatic production line for shrink wrapping.
2. Adopting photo electricity for setting the products.
3. The sealing width is adjustable for different products.
4. It will seal other three sides automatically with PE, POF film on rolls.
5. Constant temperature heat sealing and cutting system is suitable for PE, PVC, POF etc., industrial standard shrink films.
6. The sealing of door packing machine is firm and nice.
7.This door packing machine is provided with high speed hot air circulating shrink tunnel
8. The feed speed is adjustable, combines a worktable at the end of the tunnel, which makes whole machine runs automatically.
9. . Both automatic and manual feed-in modes are available.
10. It is designed with sealing system which adopts permanently heated seal bar and easy-exchangeable sealing blade without odorous. And the temperature is controlled and detected by PLC.
Technical Data
1.Sealing part
Control: PLC
Structure Material: Carbon steel
Length: 1500-3000mm
Width: 910-1350mm
Height: 70-150mm
Height of Working Table: app. 800mm
Conveyor speed: app. 6-12m/min
Sealing Type: Three Sides
Packing Material: PE/POF/PVC film with reserve pore
Sealing part power consumption: app.6KW
Power Supply: 380V
Air Supply: 6~8kgf/cm2

2. Shrinking part
Structure Material: Carbon Steel
Length:4500mm
Shrinking tunnel:3500mm
Shrinking Side: W 1600mm x 300mm
Heating Power Consumption: App.35Kw
Calorific: 4PCS
Cooling Fans: 1 Group
Drive Part: Frequency control Motor
Conveyor speed: app. 6m/min
Temperature: 120℃-200℃
Packing Material: PE/POF film with reserve pore.
Power Supply: 380V

Specification
Power: AC 380V
Heating mode: Mainly by circular heating, direct heating supplemented
Heating power: 20kw
Conveying power: 0.75kw
Blower power: 0.18kw*4
Temperature scope: <220
Conveying mode: Chain, Stainless steel mesh, Teflon mesh
Conveyer height: 880mm
Max conveying weight: 100kg
Conveying speed: 0-8m/min, controlled by the inverter
Tunnel dimensions: L3000mm W1200mm H300mm
Overall dimensions: L4600mm W1300mm H1500mm
Machine weight: About 850kg
Cooling device: One group
Suitable materials: PE or POF

Note: Conveyor length is option part.

Basic Configuration
Inverter brand: Siemens
Transducer brand: Autonics
Contactor brand: Schneider, Fuji
Switch, button brand: Schneider