Aluminum profile packing line
Plataforma de En-Alimentación y Fuera-Alimentación:
In-feeding&Out-feeding platform:
l Feeding platform connect with roller conveyer for automatic feeding
l All platform action are synchronizing in packing process.
l Outlet plat from connect with outlet conveyor for packed product accumulation.
l Weighing device is with outlet platform for weighting.
l Control by separate device/remote
Automatic Wrapping Station:
l Reinforce double-ring & double-rub wheel devices make working more safe stable & energetic.
l Double driving system.
l Friction between driving wheels and ring is adjustable.
l Speed of the ring is adjustable by inverter.
l Soft start and start.
l Wrapping position reset.
l Packing material tension could be adjusted.
l Widely packing material adopted by material frame.
l Protect guardrail for safety operation.
l Overlapping is adjustable from 10%-90%
l It makes machinery automatic operation.
l Automatic material feeding for film.
l Automatic material heating cutting for film.
Conveyor System
l Roller conveyors covered PU for protecting the surface of the product
l It designed for connecting with in-feeding&out feeding platform.
l Automatic entrance conveyor system and outlet conveyor system.
l Conveyor adjustment by invertors.
l Conveyors drive by motor with gear box.
l Speed of the conveyors is adjustable by inverter.
l Sensor detecting the objects for operation action.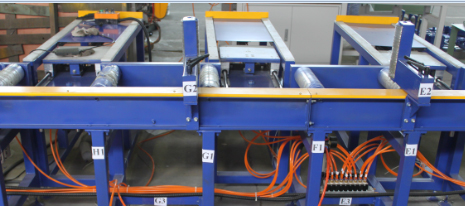 Automatic profile wrapping protective System:
l Automatic protective devices are able to avoid products shaking in wrapping.
l Pressing down device and supportive rollers for fix the packaging position.
l The action time is adjustable for difference packing purpose.
l Two sets of press down device.
l Two sets of the right and left protect device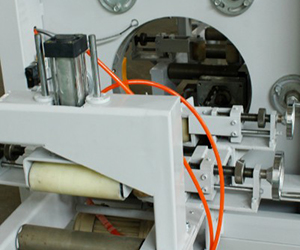 Technical parameter:
Object size:
OD: 50-300mm Length:4000-7500mm Weight:40-250kg
Entrance conveyer length: 6000mm with motor
Outlet conveyer length: 6000mm with motor
Wrapping Speed: 4~20m/min
Ring speed: 20-110r/min
Air supply: 5-7kgf.m2
Power output: about 3.5kw
Air supply
Weight:app.2100kg
Volume: App.14-16CBM
Power voltage: AC 380v,50Hz, 3phase
Material:
LLDPE stretch film/PE film
Width: 150-300mm
OD: 100-250mm
ID: 50mm