Aluminum Packing line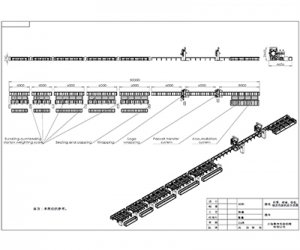 Línea de Embalaje de Aluminio, Máquina de Embalaje de Perfil de Aluminio
Description:
Rack Weighing Platforms: These are the weighing platforms used for capturing the weight of extrusion rack before feeding them into the packing line. Platform will have rectangular structure fabricated with standard channels and have machined plates in order to mount the load cells HDPE Film dispenser: Dispenser will have a stand mounted film roll and cutter on it. Required length of the film will be pulled manually and cutting will be done after pressing the push button.
Ø Qty.: 6 Nos.
Ø Roll Dia.: 600 mm
Ø Roll length: 1000 mm
Bundle Transfer System (BT1):
The bundle will be transferred to the respected PRC with the help of this system. This system consists of mechanism for giving linear motion and lifting the bundle will be with pneumatic system. As soon as bundle preparation is completed lifter will lift the bundle and moves to the PRC and moves down to place the bundle on the conveyor and comes back to home position for lifting the another bundle. Powered Roller Conveyor (PRC1)
Powered Roller Conveyor 1 accepts the bundle from the bundle transfer system (BT1)/ Weighing Station 1(WS1). These Bundles are further transferred to the Powered Roller Conveyor 2 provided there is no bundle on it and bundle transfer system (BT2) is at home or no transfer is taking place from PRC2 to next station. All rollers are with PU coated in order to avoid any damage to the profiles while transferring to the next station. This cycle gets repeated in every stage as and when this conveyor gets the bundle to transfer to the main line.
Feeding Station 2(Up to 4 Mtrs.):
This consists of weighing platform (WS2), bundle transfer system (BT2) and Powered Roller Conveyor (PRC 2)
Integrated Ring Master with tape wrapper:
The Ring Master is used to wrap the bundle with the films, both the stretch film and HDPE, while moving and also for tapping. Ring Rpm will be considered High, Speed of ring drive: 90 RPM approx. with Variable frequency drive. • Ring diameter suitable for maximum pack size. Approx. 1 Mtr.
• Dual wrapping and tapping
• Two different rings for wrapping and tapping
• Fitted with PU coated support rollers. VCI fabric and stretch Film dispensing mandrels on the ring.
• Wrapping material will be HDPE and LDPE
• Heavy-duty steel forged Ring.
• Rigid base frame with Vertical tubular structural support.
• 4 column structure with Tie members
• Automatic film gripping, cutting & sealing mechanism
• Top holding Pneumatic Cylinders with rollers. Rollers are PU coated. Pressure adjustable. All electrifications included with PLC integration.
• Field Sensors included.
• Percentage of overlap is 30% VFD for the Ring drive
• Qty.: 2nos
Consumable Specs:
1. Stretch Film:
Thick ness: 50 microns OD: 250 mm
ID: 3"core
Width: 250mm
2. HDPE:
OD: 250 Width: 250mm
ID: 3"core
GSM: 120
3. BOPP tape:
Tapping Machine
This machine is used to tape the bundle with the BOPP/Fibre reinforced tape, which moves while wrapping. It bands 3 or 4 places as per the requirement.
The tapping m/c's which is located with wrapping machine will tape the pack with the tape (3 to 4 places). The machine is steel structured and it consists of a steel forged ring mounted on circumferentially pitched polyurethane coated PU rollers. The ring will rotate freely on the rollers, there is a dispensing unit mounted on the ring. The ring is driven with a belt loop connected to an electric brake motor. Technical Specifications
Product Specifications:
Description Min. Max.
Length 1000 mm 6100 mm
Width 100 mm 500 mm
Height 40 mm 470 mm
Weight 40 Kg. 300 Kg.
Thru put 70 Bundles/Hr.
Electricity:
Incoming Power 415V ± 10%, 3PH
Frequency 50 Hz ± 4%
Pneumatic connection:
Air pressure 5 bar Min. - 7 Bar max.
Lubrication On line lubrication
Air quality Compressed dry air free from water and
particle size less than 5 Microns
Air Consumption
• MPCB for safety of drives.
• 24V DC control voltage.
• In built dc power supply.
• Operator friendly push button control.
• OIU for the operator Interface.
• Complete Field wiring and electrification included.
• One point incoming power supply.
• JB at the convenient location for the field termination.
• Operator terminal at the required locations.