Rotate arm stretch wrapping machine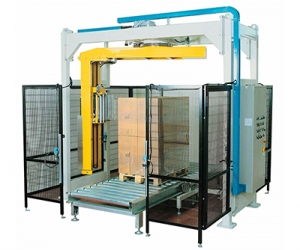 Rotate arm wrapping machine, rotate arm stretch wrapper
Information:

The machine is used to pack goods on the stack with PE Stretch Film, which makes the goods stable, tidier; also waterproof and dust proof. And it can lessen the labor density; improve work efficiency, so it is perfect packing equipment and is ideal for modernized plants in industries such as food & beverage, chemicals, paper making, building materials, electric &electronics, etc.
Description :
The machine consists of frame, rotary wrapper, motorized conveyors, auto film apply& cut device and control box.
ITEMS
DATA
Rotary arm motor power
About 0.75kw
Film carriage power
About 0.37kw
Conveying power
About 0.75kw*3
Rotating speed
10-14r/min
Rotating diameter
2000mm
Film carriage speed
2-6m/min
Conveying speed
App.12m/min
Packing speed
About 20~30 Pallet/hour
Overall dimensions
About L3350mm W2200mm H3800mm for reference

(conveyor lines, electrical box, guardrail not included)

Machine weight
About 2500kg
Turntable height
500mm
Max loading
2500kg
Max packing size
L1200mm W1200mm H1500mm
Film setting mode
Mechanical hand.
Film cutting mode
Mechanical hand.
Film smoothing mode
Mechanical hand.
Power voltage
AC/380V/50Hz
Air pressure
6-8kgf/cm2
FEATURES: Control System:
² PLC is adopted for electrical control.
² Unmanned working mode. All steps include feeding film, wrapping, cutting, film smoothing, conveying package are finished automatically.
² Separate control panel makes operation and maintenance easily.
² Can set special wrapping position (top, middle, and bottom) reinforcement.
² Turntable position reset automatically.
² Separate start, stop and emergency stop buttons.
² Automatic pallet height detection by photocell sensor.
² Variable turntable speed controlled by frequency converter.

Rotary Arm System:
² Rotation speed: 10-14rpm speed variable through inverter.
² Soft start & soft stop.
² Drive motor output: 0.75kw.
² Highly sensitive brake system.
² Rotary arm home position & film change location for easy operation.

Film Carriage system:
² Pre-stretch can adjust as your requirement.
² Film delivery variable speed by separate motor
² Powered pre-stretch system up to 200% to reduce film consumption.
² Many protection functions, more safety & reliable.
² Can set packing types automatically & manual operation also.
² New design, firm & durable, easy for after-service & maintenance.
² Can start/stop/reset freely.

Film Clamping/Cutting/wiping System:
² Pneumatic film cut & wipe system.
² The process of film clamping, cutting and wiping finished automatically.
² Film clamper mode: scissors like gripper bars
² Cutting method: instant heating wire
² Wiping system: soft brush to stick the film perfectly onto the pallets
² Automatic film clamper/wipe/cut driven by air cylinders
² Air pressure: 6-8kgf/cm2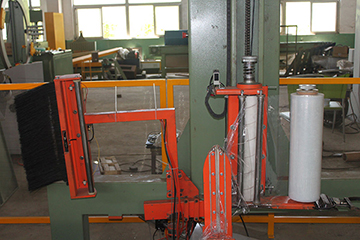 Conveyors
² Heavy Structural steel Frame construction.
² For pallet with Max. width 1200mm
² All rollers driven.
² Heavy duty conveyor guards.
² Different roller diameters and roller spacing available for different applications.
² Conveyor Speed: app.12m/min (other speed available)
² Photo-eye for pallet sensing and sequencing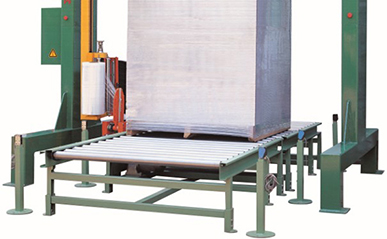 Safety protection
² Alarming indicator alarms automatically when trouble occurs.
² Emergency stop button in both operation panel& column in case emergency occurs.
² Outside protection guardrail to ensure safety of the operator.