Máquina Embaladora de Cable GS300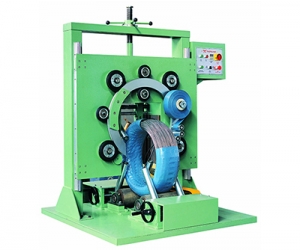 Máquina Embaladora Cable, Máquina Embaladora de Bobina de Cable
Notas del producto:
GS300 Máquina Embaladora de Alambre de Cable
Aplicación:
Application:
GS series cable wire packing machine is widely used in coiled articles especially for steel wires, steel coil, hose coils, pipe coils, steel wire coils, etc.
The wrapped package is well-protected & sealed & looks beautiful & tidier. What's more, it has effects on waterproof, dust proof, rust proof, wear proof, anti-aging. It can highly lessen the labor force, raise the working efficiency.
Features:
1. Three colors of indicator lamps on the electric cabinet have different indications.
2. Indicator alarms automatically upon trouble occurrence, the red lamp will be flicker and error displayed on the control panel automatically.
3. PLC control system is an intelligent operation by imputing objects OD,ID & width, then calculating the tape length, wrapping layers and cutting time automatically.
4. Particular tension control system is adopted, regulated the overlap degree and material firmness effectively & precisely.
5. Flexible slide board structure, adjust the ring height automatically or by manual in accordance with different OD & ID of package coil.
6. Friction wheels cover with anti-wear polyurethane, ring made with whole mould structure.
7. Carrier roller and protective roller are wrapped with wear-resisting rubber.
8. Synchronous wrapping (two kinds of wrapping materials working together in one packing process) is feasible.
Technical Parameters:
| | |
| --- | --- |
| ITEMS | GS300 |
| Object height | ≤300mm |
| Object OD | 500-1000mm |
| Object ID | ≥300mm |
| Roller speed | 2-4m/min |
| Ring speed | 30-50r/min |
| Suitable material | Knit tape, paper tape etc. |
| Material width | 100-150mm |
| Material OD | 150mm |
| Material ID | 54mm |
| Power output | About 3.0kw |
| Power voltage | 380V, 50HZ |