Máquina Embaladora de Neumático GD300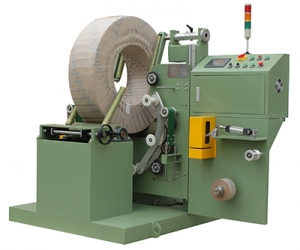 Máquina Embaladora de Neumático
Notas del producto:

APPLICATION:
GD series automatic wrapping machine for metal coil was designed mainly for metallurgical industries. The machine could be widely used in the exterior wrapping of circular articles such as steel coil, bronze coil, wire material, rubber tube, bearing, electric wire cable, tire & etc.
BASIC FEATURES:
1. To &fro working mode with movable trolley, safe, convenient and efficient.
2. PLC & HMI are adopted.
3. Indicator alarms automatically when trouble occurs, and errors will be shown automatically.
4. Simple operation by imputing objects OD. ID. & width, PLC will calculate the tape length and wrapping circles automatically.
5. The overlap rate and material tension could be adjusted according to needs.
6. The ring height could be adjusted for different object ID&OD.
7. Anti-wear polyurethane is adopted for the friction wheel, ring with integral mould structure.
8. Synchronous wrapping (two kinds of wrapping material working together) is available.
9. The carrier roller and protective roller are wrapped with polyurethane.
10. Wide-width wrapping tape can be adopted to improve work efficiency.
11. Special cutting device adopted.
Technical Data:
ITEMS

GD300

Object width
10-300mm
Object OD
700-1200mm
Object ID
300-500mm
Packing material
Compound paper tape/compound knit tape

W:90mm ID:54mm OD:500mm

Roller speed
About 2.5m/min
Rotating speed
50~60r/min
Roller height
About 750mm
Roller loading
About 1500kg
Power output
About 2.2kw
Power voltage
380V, 3phase 4 wires