Hose coil wrapping machine GW500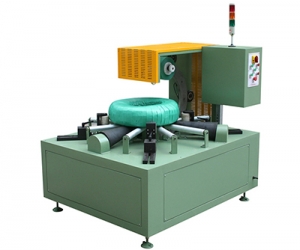 Hose wrapping machine , pipe wrapping machine
Application:
GW500 hose coil wrapper machine was designed mainly for wrapping hose coils and other coiled objects. Our product CE ,ISO 9001 approved. The wrapped package is well protected and sealed, and it looks tidier. That can also be used for pipe coil wrapping, cable coil wrapping and copper coil wrapping.
Features:
1. This hose coil wrapping machine is provided with double-rub wheel devices, it makes working more safe stable and energetic.
2. Over lap rate could be adjusted according to the requirement.
3. Height of the ring centre could be adjusted.
4. Material tension could be adjusted.
5. Different packing materials are available.
6. The mechanical hand device can be choosing for automatic material loading and cutting operation.
7. Special brake device is provided for avoid material folding.
Datos técnicos:
ITEMS

GW500

Package width
≤200mm
Package OD
250-500mm
Package ID
≥180mm
Rotating speed
About 50-70r/min
Overlap scope
30%-70%
Material
Knit tape/stretch film/compound paper etc.

W:90mm OD:≤300mm ID:55mm

Power output
About 1.2kw
Power voltage
380V/50Hz /3 phase
Air supplier
6-8kgf/cm2