PPR/PVC Pipe bundling machine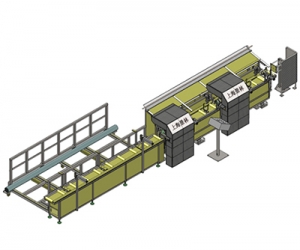 Automatic pipe bundling machine
This pipe bundle machinery system is automatic pipe packing line including pipe counting, aligning, bundling, strapping machine, feeding conveyor etc. It is a set of efficient, convenient and safe wrapping machinery for pipe, pipe bundle packaging.
1. Pipe feeding and counting.
The equipment is for feeding (on line/off line) and counting the number of pipes before bundling.
Features:
a) Control by PLC program.
b) Sensor for positioning and detecting.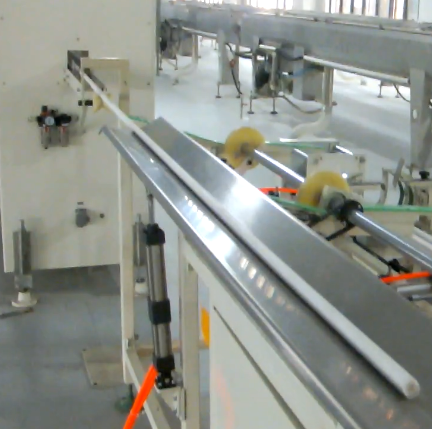 c) It is adjustable per pipe size.
d) Precise pipe counting and feeding system.
e) Buffer zone for more pipe feeding
  2. Bundling system Automatic pipes aligning, stringing, strapping system.
Features:
a) Excellent collections. Well-known brands are adopted for main components.
b) Ring speed adjustable by convertor.
c) Roller speed adjustable by convertor.
d) PLC&HMI program control.
e) Manual and automatic working mode can be choosing.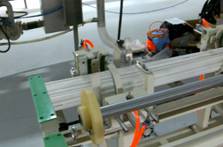 f) Pipe aligning device for keeping the orderly tip.
g) The pipes are parallel without cross.
h) Supporting rollers are covered by polyurethane
i) Stringing device adjustable per size of the pipe and bundle.
j) Automatic strapping for stringing pipes.
k) Strapping belt is adjustable per requirement.
l) Strapping position reset
m) The bundling system is adjustable for different pipe length.
n) Pipe are paralleled in strapped bundle.
  Bundle Size: Length:4000mm and 6000mm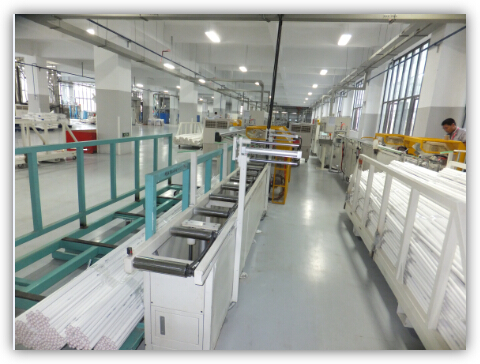 Pipe and bundle information
(can be designed per specification):20mm 25pipes ,
32mm 20pipes ,
40mm 15pipes ,
50mm 10pipes ,
63mm 10pipes
Bundle OD: 150-200mm
Conveying speed:1-10m/min
Bundling speed: app. 3-4 bundle/min.
Power supply:AC,380V, 50Hz
3. Automatic conveying
Automatic conveying the pipe bundle to the gathering position.
Basic characters:
a) PLC program control.
b) Supporting rollers are covered by polyurethane
c) Automatic package outlet.
d) Speed is adjustable